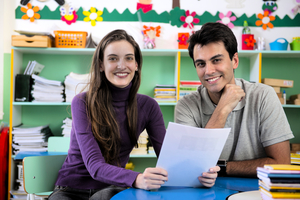 AN ESSENTIAL MINDSET FOR IMPROVING PARENT/TEACHER RELATIONSHIPS
What do both parents and teachers have in common?
You're both big beings!
I think that this simple acknowledgement could change education. So, let me repeat it: We're all big beings!
We also have a commonality with small beings.
Specifically, that the rules of behavior for small beings are the same as for big beings!
The way I speak about facing challenging behavior with small beings can work the same way with other big beings. So, follow my three phrases to live by: mean what you say and say what you mean, let your actions speak louder than your words and use honey to get more bees.
Relationships between teachers and parents can be tricky, mostly because we're all individuals with different needs. The way you simplify it is to remind yourself that we're all human beings and behavior works very much the same for everyone.
When you live with that intention watch how quickly that stressful relationship changes.
While it does take two to tango, there's just one who needs to lead. What you do, either as a teacher or as a parent, can direct the relationship in either a productive or negative direction.(Tweet)
Just like you do with small beings, decide how you want the interaction to go and follow through to create positive behavior interactions.
Good news: These concepts also work in personal relationships between big beings!
Insight into Action!
What is one behavior you have seen in both big and small beings? How did you handle it with each group?
Feedback? Thoughts? Comments? Leave 'um below or email me at: Info@BehaviorAndBeyond.net.
With a little help we can all grow. If a special person in your life can use this information, then please forward this blog.
For more helpful behavior information delivered straight to your inbox every Tuesday, sign up below.