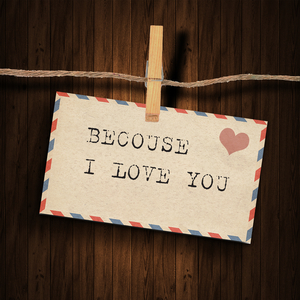 GIVING THANKS: I LOVE YOU BECAUSE
Today I am going to share my favorite tool forbehavior transformation with you! Are you ready?
It's something that will bring more love and positive behavior into your environment, whether at school, at work or out in the world.
I've seen people use this tool consistently and witnessed incredible behavior transformation that took place within the family or classroom.
It's simple and can be done anywhere…
Here it is:
Say: "I love you because…."
Now fill in three reasons why you love one specific person.
Some people want to cheat and say one reason for three different people. Don't do it! Say three reasons for ONE person, please!  
If you're a parent, then this is something that you can do for each person in your family and perhaps make a family activity.
If you're a professional working with a small being in individualized or one-on-one sessions, then you can have the small being tell you their reasons for loving members of the group, yourself or their family.
If you're a teacher with a big classroom, then you may want to have small beings do it for the person sitting next to them in a circle. This way each small being has a  chance to give and receive.
I give small beings ample room to be creative in their response, but I make sure that everyone knows the reasons for loving someone should not include anything negative, what has to be changed or corrected and qualifying words. Just pure encouragement. Pure happiness. Pure goodness.
For some families this exercise is the start of something good in their journey together.
For big beings it's helpful to use when you're frustrated with your small being as you will focus on the positive elements that exist within them.
For some small beings this activity becomes a way to start seeing the good in themselves and others.
At the heart of it saying "I love you because" is all about shining the light on the good. We all can use more of that, right?  We all know how good it feels when the positive light is shined on us.
This exercise takes just a few minutes.  Find a time each day to shine a light on your small beings!
Ideas into Action!
Today — as in this day, this very day, the day that you are reading this — I would like you to say to someone: "I love you because…" and come up with three reasons that are authentic to your true feelings about that person. (Tweet)
Leave your feedback, experience and thoughts in the comment section below this post or email directly at DrMarcie@BehaviorAndBeyond.net with your behavior insights!
With a little help we can all grow. Keep checking in weekly for more parenting insights at Behavior and Beyond. For personal insights that I only share with my email list, please join my confidential email list below.
P.S. The next Dr. Marcie Ask-Me-Anything Sessions are coming up — December 8th and 12th at 11:30am! Click here to sign up.