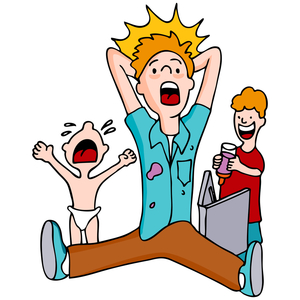 EMBRACING YOUR AUTHORITY TO AVOID POWER STRUGGLES
One of my 3 rules to live by is "Say what you mean and mean what you say".  It is one of the most effective tools I have when engaging with small beings.  At times, the small beings around you may not want to follow what you say.  This can lead to challenging behavior from your small being…that is if you truly do say what you mean and follow through to make it happen.  For example, you may say it is time to leave a party.  The small or medium size beings you are with, may want to stay and use their behavior (nagging, whining, negotiating or falling to the fall in resistance) to stay at the party.
How do you face this challenging behavior? There is a choice: either embrace your authority and mean what you say or have a power struggle.
Embracing your authority means to follow through on meaning what you say.  You stay calm.  Take a deep breath.  Repeat the direction and then give your small being the next action that needs to happen.  That may be to say good bye to a friend or to put on a coat.  Your role is to help your small being to make that action happen, stay focused on the action until it is complete and then give the next action.  One step at a time, you give your small or medium being the actions till you all have left the party.  At the end, you have been clear and calm and successfully left the party!
Having a power struggle is the result of you losing control.  Your emotions of anger or frustration or exhaustion begin to dominate how you behavior.  With the example we started, it may result in you yelling at your small being and threatening to take away time watching television later that day.  Your choices and language are reactionary and undeceive.  Frequently in a power struggle, the small being gets their way because they have worn you down.  As in, you may end up staying at the party after saying that it was time to go and reinforcing your small beings challenging behavior.  At the end of a power struggle, all beings involved feel bad.  For tips on how to side step power struggles, see my blog post from last week: Treat Power Struggles like a Snow Globe.
PS-When faced with challenging behavior there is a third choice, change your mind and not leave the party.  This means that your small beings challenging behavior is reinforced.  Not one of my recommendations to help create positive behavior interactions.