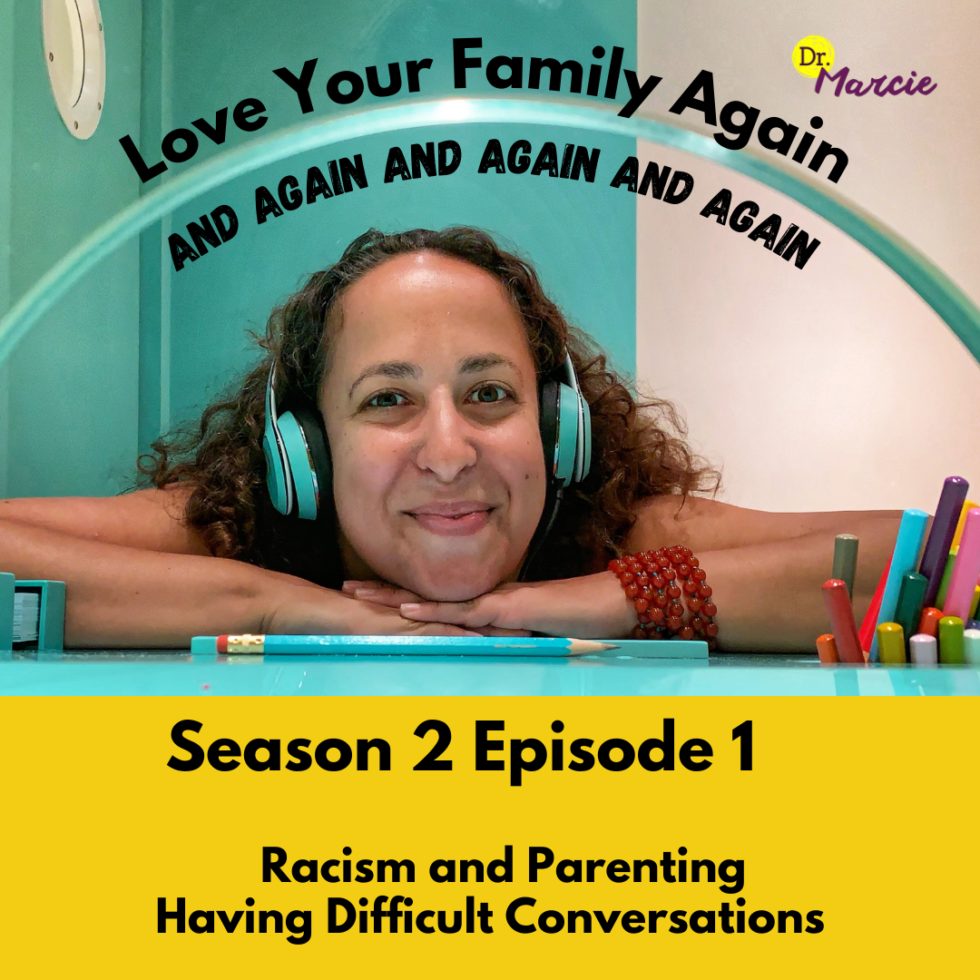 Racism and Parenting: Having Difficult Conversations – Podcast Episode 1 of Season 2
Episode 1 of Season 2 of Love Your Family Again and Again and Again and Again – Dr. Marcie's podcast.
Gary has been with Courtney for over 20 years in a long and happy marriage. They have two boys together. Garrett is 5 years old (almost 6) and Cameron is 6 months old. They are an interracial family, with Gary being black and Courtney is caucasian. Having time together as a family is one of Gary's favorite activities.
Our conversation focused on one comment Garrett made to his dad recently. He came home from school and said, "My hair and my skin are not cool." Heartbroken, Gary reached out to discuss the best ways to talk with his son in light of this comment.
I broke it down into two different elements:
1. Making sure Garrett loves himself….skills to build resiliency and positive self identity.
2. Talking about racism and bias in an age appropriate way to help him face the challenges he may face as he grows up.
Gary had not yet started having conversations with his children about racism and the systemic ways it creates imbalance in the world. Today is the day he is starting. Using story telling, intentional modeling of amazing and diverse people, and many many many small moments to teach Garrett that his is cool!
If you enjoy this conversation, you may also enjoy Episode 9 from Season 1 where we talk about advocacy for your child.
Subscribe at https://drmarcie.com/podcast/ for the latest episodes.
Go to https://drmarcie.com/podcastguest/ to be a guest on a future episode.
Visit https://drmarcie.com/contact/ to connect directly with Dr. Marcie and her team.