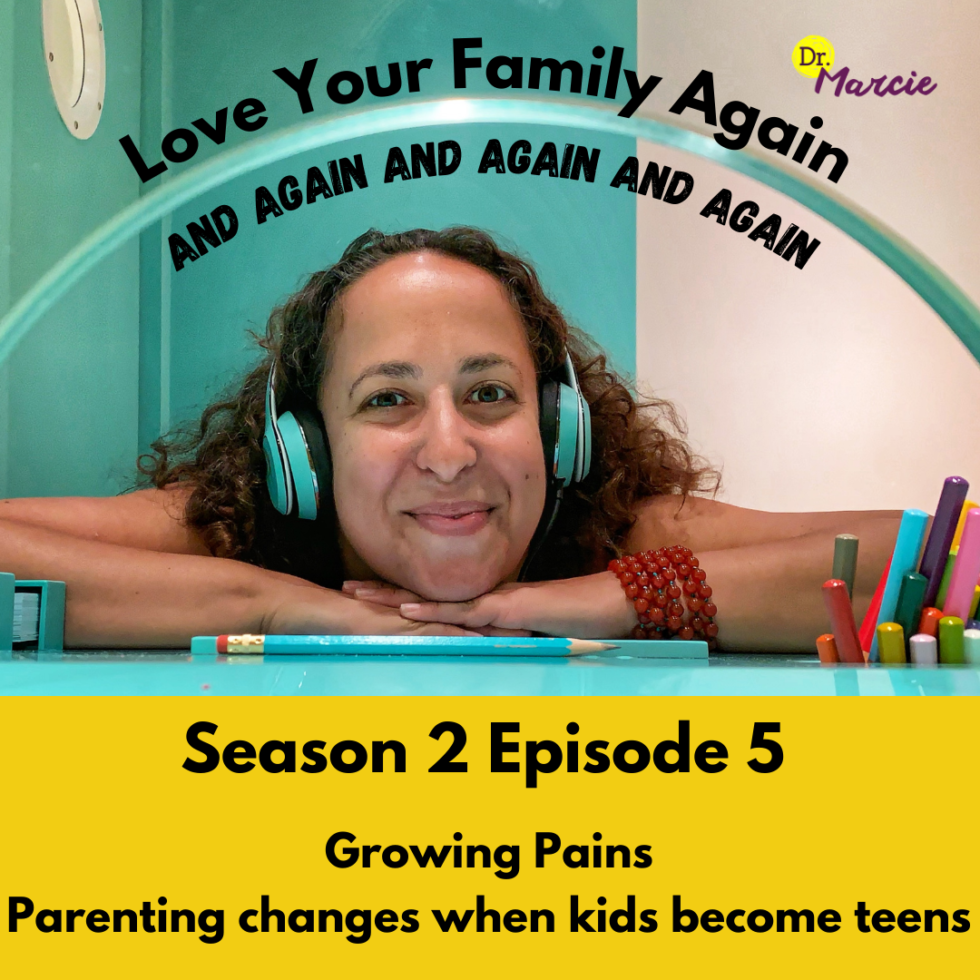 Growing Pains – parenting changes when kids become kids – Podcast Episode 5 of Season 2
They are a family of two, Amanda is the mom and Isaac is her 13 year old son. Amanda knew her life would not be complete without a child, so she adopted Isaac. As life unfolds, Amanda sees how different they are and how they learn so much from each other. Mom is a self proclaimed nerd who is happy curled up with a book and Isaac loves soccer and is always in motion. When asked what they enjoy doing together, Amanda had a hard time answering, even though she came up with a long list. Together they ride bikes, go on road trips, play chess, and watch movies.
Lately, Amanda has been feeling like she has not had as much time with her son and wanted to discuss ways of strengthening their relationship. Through her conversation with Dr. Marcie, they came up with several ways to bring more intentionality to their time together:
1. Notice when you are actually spending time together, it may be more than you think. When we focus on lack, we see the lack. Shifting view can make a big impact!
2. Talk to Isaac about what he would like to do together. Amanda has been thinking about this all by herself, yet it is about a relationship with her son. It is important to make him part of the conversation, transition, and decision.
3. Create intentional time together. Perhaps dinner 1 night a week and 1 adventure a week. Given that they both have busy schedules, Dr. Marcie recommended that they sit down Sunday nights and make a plan for the week together.
4. Consider what traditions still serve the family and what needs to adjust. There are some things you did each week/month/year that were great when he was a little kid and now that he is a teen do they still support both of your needs? Traditions are important and so is reflection on those traditions. Keep the ones that support the family and shift the ones that are no longer meeting your needs.
If you enjoyed this episode, you may also enjoy Episode 6 of Season 1 – where a dad shares the experiences of his daughter starting middle school.
Subscribe at https://drmarcie.com/podcast/ for the latest episodes.
Go to https://drmarcie.com/podcastguest/ to be a guest on a future episode.
Visit https://drmarcie.com/contact/ to connect directly with Dr. Marcie and her team.